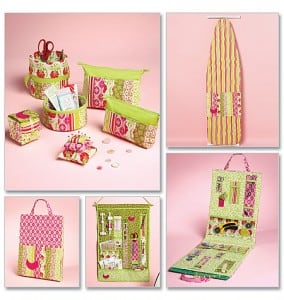 I found a fun and practical pattern for making lots of things to help keep some of my sewing and crafts more organized. It's McCall's Crafts pattern M6374. I can't imagine paying $18.95 for a pattern—remember back in the good old days when patterns were in the $1–$3 range?—so I was THRILLED when Hobby Lobby had their occasional sale of all patterns for 99 cents. (It's beyond satisfying to buy things for 99 cents, isn't it? I love to wander around dollar stores.) So I bought four patterns, but knew this one was the one I'd open first. Why?
Because I need to get organized. I thought the wall-hanging organizer would be a good idea so I can get things off my sewing table, but still keep them handy. I'll just hang it within reach while I'm sewing. (Oh, and a huge THANK YOU to my DH, Eric, for buying me a new sewing machine! Love it!) But things had to get a little messier before they got better. Isn't life like that sometimes? I remember hearing that when I was going through some counseling several years ago. It's like needing surgery. In order to heal, sometimes we have to get cut open, which can be very messy and painful indeed. And sometimes we need someone outside ourselves to help. For me, that has included God, close friends, special family members, and the occasional mental health professional. The end result, though, is worth all the tears. It means moving forward with more light and less darkness, more self-control and less trying to control others.
So here's the messy part of my project: cutting out the 20+ pieces that are supposed to become an organizer. When I saw how many pieces were involved, I have to admit that I almost changed my mind.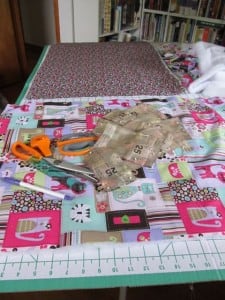 Instead, I decided to read through the directions so I could understand what each piece was, how it was sewn, and what purpose it served when finished. I did just that, and **Surprise!** it all made sense! I cut out each piece and began sewing. Less than 24 hours later, I was finished!
I love this bright, sparkly, kitty-laden organizer. Now I want to get busy making some matching accessories: probably the square pincushion and some of the round boxes to hold lots of goodies. Stay tuned for finished products in the next post!
I hope you're learning how to put all your pieces in the right places, too. Thanks, friends, for coming along for the journey.