…you're never too old to take up art.
This year I surprised myself. I figured I was well-acquainted with all the corners of my weird little mind. But something lay hidden. It was probably under a rug embroidered with the words "stuff you can't do." Do you have a rug like that? Or an attic with a big, scary door and a sign that reads "Don't even try to come in here." Stowed away under dust and discouraging words, you just might find a surprise, too.
Almost a year ago, I was spending the winter in Florida and my aunt had come down for a short visit. One day we decided that we'd try out a new place nearby that offered "paint and sip" classes. The concept is that you bring a beverage (adult or otherwise) and the teacher provides all the painting supplies. Everyone paints the same picture, more or less. That night we were working on a colorful thing called the Whimsy Tree.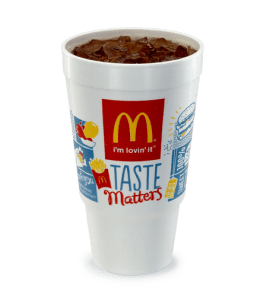 Aunt Sue and I showed up with our McDonald's Buckets o' Tea (really, what a deal for a buck!). We figured we'd need all our senses to complete this project. Neither of us had done much with acrylic paints before. It was an adventure in artistry! We watched the instructor and did what she did (kinda). Thanks to having lids on our iced tea, we never dipped our paintbrushes into our drinks, so there's that. My main goal was to have a fun evening, not to paint a masterpiece. (Aunt Sue, bless her heart, had had shoulder surgery the month before, so she gave it her best. She's usually very artistic! I was scared.)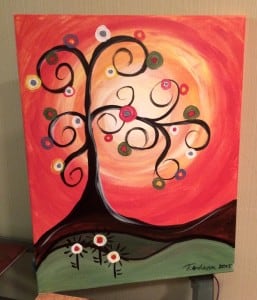 Which is why I was so surprised when my painting actually turned out to be something I might hang on a wall. I mean I was SURPRISED. And the instructor complimented me, which, all of us who live for the approval of others know, is the cherry on top. Here's what I discovered:
I enjoyed learning a new skill.

I didn't even think about how much the class cost afterward.

I felt proud of myself.

I looked forward to showing it to my husband and others.

Every time I look at it, it makes me happy. (Yes, I did hang it prominently in our dining area.)

I can do art. Like real ART.
And that got me started. Follow along and I'll share my next piece of artsy serendipity! (With photos!)