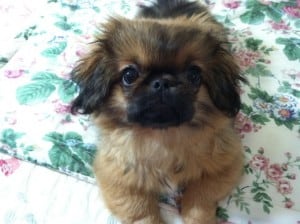 We have a new member of the household. His name is Kirby—after tossing around dozens of names and circling back to the one that really describes what he does best, sucking up stuff on the floor and making it disappear. He's a Pekingese and an Easter baby. Yep, the Easter bunny brought this little fellow on April 8. (Which just happens to be MY BIRTHDAY, too, and was too much of a cosmic coincidence for me to ignore.) Having a little pocket pet offers all kinds of crafting opportunities, including the creation of costumes and outfits that he'd be mortified to wear if he had just an ounce of self-awareness. In due time, my little puppy, in due time.
I'm starting with more basic projects, however. He's being crate-trained, as most household dogs are, and I can't stand the thought of his little puppy underparts lying on the cold, hard, plastic, cookie-sheet-shaped, slide-out base of the cage. I also don't want to give up any of my good towels. Here's a chance to use my crafty brain to cook up something simple, yet wonderful.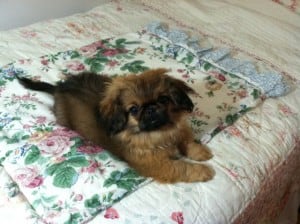 I scavenge through the house, looking in drawers, closets, and my sewing area. Voilà! I spy some oldish pillowcases whose matching sheets have long since been used for dust covers in the garage. A little feminine, yes, but he's a modern pup—it's all about recycling. I take the first pillowcase to my sewing station, flatten it on my cutting board, and unroll a batch of batting. Using the pillowcase as my pattern, I cut a folded (doubled) piece of batting about an inch smaller around the edges than the pillowcase. Then I insert the doubled piece inside and pin the four layers flat. Using a larger stitch than normal, but not a full basting stitch, I sew around the perimeter of the pillowcase, securing the batting.
That's it! All done! It is the perfect size to fit inside the doggie crate, and it's pretty, cushiony, and so washable. I'll make 3 or 4 so I can rotate them between wash days. Kirby doesn't even mind the darling little ruffle on the end. See? He's just happy his owner is such a crafty lady.