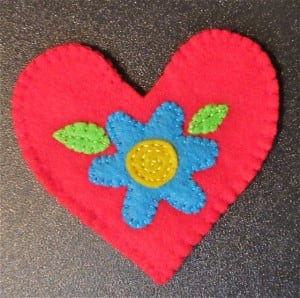 Here's a little project you can finish in about half an hour. It's dedicated to Nikki Grimes, author of The Road to Paris (one of many of her award-winning children's books), because of a wonderful concept she shared in that book. She introduces the idea of carrying God in your pocket, giving you access to him whenever you need to know he's close by. Just the simple act of reaching into your pocket then becomes a visceral reminder that you are not alone. In homage to that idea, I've made this Heart Pocket, a simple project that allows you to place something in your heart's pocket—something tangible or something symbolic, such as a prayer, a photo, or a reminder of some kind.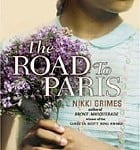 Here's the excerpt, but I hope you'll go find the book and read it all! (Project directions follow.)
Paris and Malcolm locked eyes. She was relieved to see a bit of the old Malcolm shining through. She reached across the table and took her brother's hand.

"You've got to keep God in your pocket, and everything will be all right," said Paris.

"What?"

Paris pursed her lips, trying to figure out how to explain what she meant. "Put your hands in your pockets," she said.

"Paris—"

"Go on."

"Okay. Now what?"

"Pretend that God is there. See? You stick your hand in your pocket, and remind yourself that God's always close by, and you can talk to him whenever you need to," said Paris.

Malcolm nodded. "I get it. Keep God in your pocket. Cool," he said. "I'll give that a try. Thanks, little sister."

(from pages 110–111 of The Road to Paris by Nikki Grimes, G. P. Putnam's Sons, Copyright © 2006)
Making the project:
Materials: 1 sheet of pink or red felt; scraps of blue, yellow, and green felt; matching thread or floss for all 4 colors; scissors; needle
Directions: (Note: full photo-based directions can be found in the Projects Photo Gallery; or you may purchase a 3-page instructional PDF with photos and cut-out patterns for $0.99 by going to the Downloadable Patterns page.)
Cut out 2 hearts (about 4″x4″).
Cut out 1 flower and 1 circle (for center).
Cut out 2 leaves.
Applique the flower in the center of one of the hearts.
Applique the circle in the center of the flower.
Applique the leaves as shown in the photo above.
Place the appliqued front heart on top of the other blank heart (wrong sides together).
Use a blanket stitch to sew hearts together around outer edge. Leave an opening in the "cleavage" of the heart for the pocket.
Place something in the pocket: small scissors, a note, money, a prayer, photo, dried or silk flower(s), or any other item you'd like.